~~~~~
Space Available - Reserve Now
3/4 Day

Sea Bass & Ling 7:30AM - 2:30PM

Tilefish - "Limited Trips"
Sailing 10PM June 23, 30...

3/4 Day Fluke Starts June 23
Call the office for information.
~~~~~
Gift Certificates and Multi-trip passes available online!!
_______________________________
Join our e-mail list for specials, coupons, and special trip announcements
Call 732-528-5014 for information
The Jamaica offers a variety of fishing experiences throughout the year, catering to first time, novice and expert fishermen.

The Jamaica is currently making Day trips for Sea Bass an Ling. Both are prized for their delicious white meat. Sea Bass season runs unril June 22 whe it closes briefly until July 1. Starting June 23 we will be making 3/4 day trips for Fluke and starting July 1st 3/4 Day trips for Fluke and Sea Bass with an emphasis on Fluke.

Tuna season begins the beginning of September, overlapping with Fluke or bluefish season, and we run 5 days a week through the fall out to the canyons for Yellowfin, Longfin, Bigeye and Bluefin Tuna as well as Swordfish, Mahi Mahi and Tile Fish. Our Canyon tuna trips will typically continue through the end of November most years, depending on how long the tuna stay within our range. These 22 Hour and 31 Hour trips provide access to some of the largest fish caught on rod and reel and allow even the most novice fisherman to experience a thrill and fight of a lifetime.
During November & December the 125' Jamaica will also sail for Striped Bass when not offshore Sea Bass fishing. Check our "Schedule" for days and times.

The winter time brings us into offshore wreck season. Our offshore trips typically start in late November, overlapping Tuna season, and run all winter long right into the Spring time. Trips will typically sail 4 times a week throughout the months of December, January, February, March and April. These 18 Hour excursions provide Cod, Pollock, Hake & Jumbo Porgies in sizes and quantities not found on inshore wrecks with any regularity.

Click Here for Current NJ Regulations & Available Species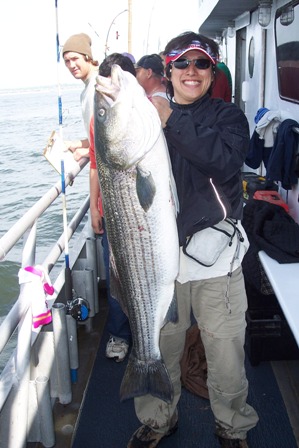 click image to enlarge
Striper Killers!! Hammered Gold & Chrome Crocs.